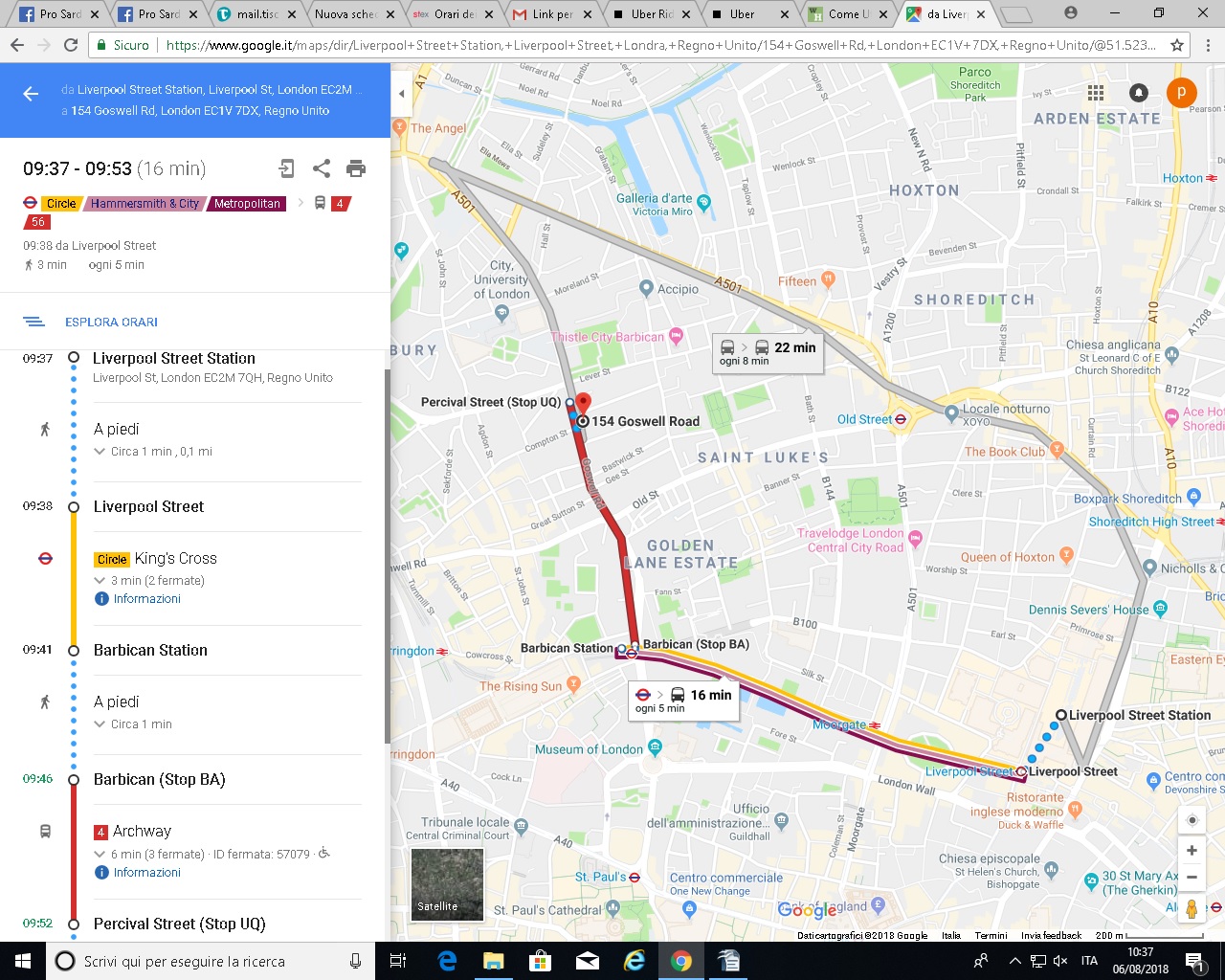 VICINI AL B&B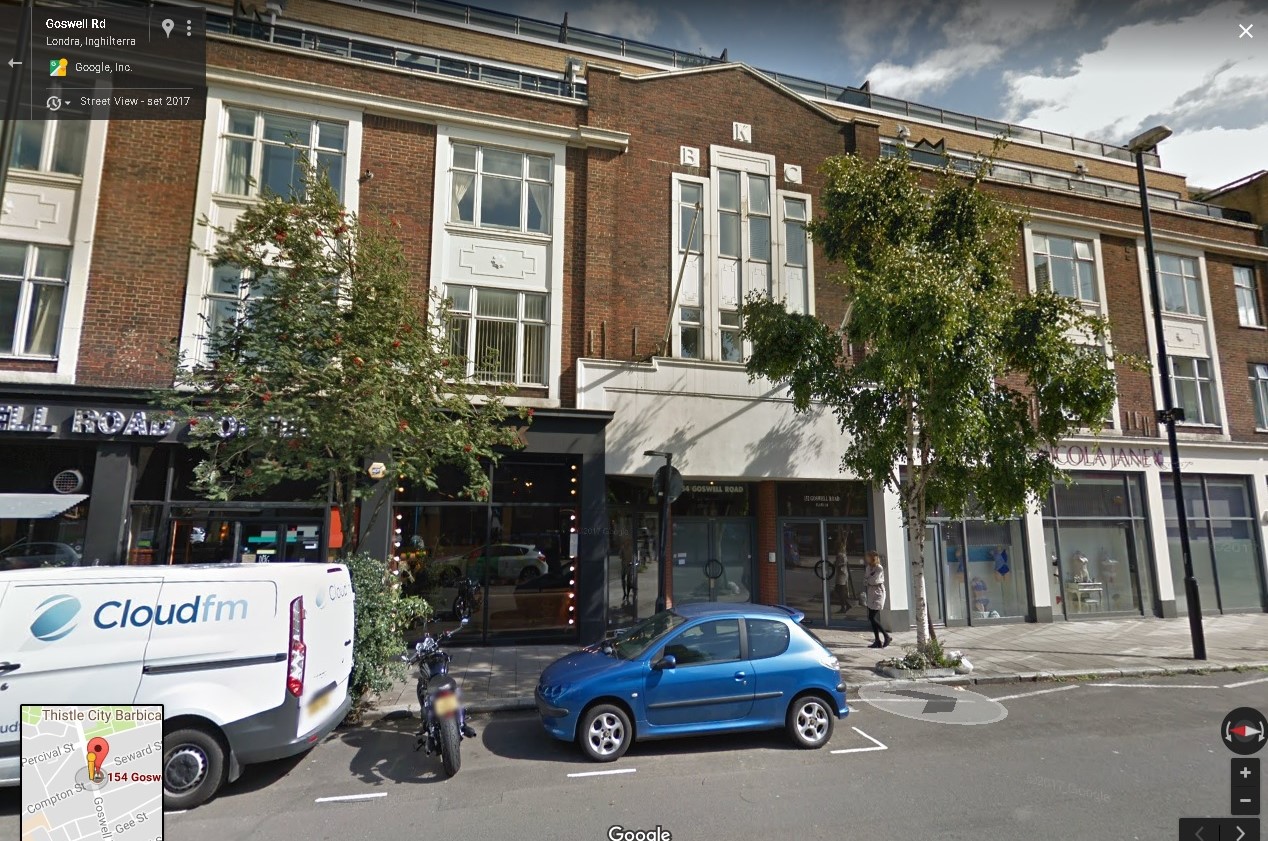 Goswell Road Coffee caffè colazione e wifi
Old Ivy House pub di quartiere affiliato a Shephered Neame, bella atmosfera; pochi piatti, tutti sotto £10, birra Masterbrew "Kentish ale"1 pint £3,70!
TESCO EXPRESS Central Street a 400 m. a Est percorrendo Peartree Street
*Kennedy's of Goswell Rd 184-196 Mixed fish £14,95, oltre a vari specials
Aburi Jap 190 Goswell Rd
Ruby Murray (indiano)1 Lever St (solo delivery)
Phoenix (Chinese) 5 Lever St solo take away, molto meglio della media cinese
poi da Lever verso Central St: Chicken Diner 102 Central St. Delivery con qualche tavolo
*Fish Central 155 Central St. Fish&chips da £10 in su, risto v. e p., vini ricarichi onesti, pinta £4
A NORD (fermata Angel) Pret a Manger * vedi sotto
German Döner Kebab 11A Islington High St buono supercheap
Tortilla (catena Tex-Mex * vedi sotto) accanto a GDK
**The Angel 3-5 Islington High St (della catena di pub Wetherspoon), deals eccellenti pinta inclusa; espresso Lavazza
The Hummingbird Bakery 405 John St Pasticceria solo cakes & cupcakes
e oltre la fermata Angel, accanto al McDonald
*Delhi Grill 21 Chapel Market molto ben raccomandato, "la miglior cucina del nord India", carino, interni stile Bollywood
A 4 PASSI WEST
Dragonfly (viet) 71 Compton St accanto a Pret a Manger * vedi sotto
**Cafe Tiffin (India-Bangladesh) 69 Compton St BYOB Mains £8-14, Byriani ca.£10, set x 2 £26,95 https://www.cafetiffin.com/menu/
A SUD e WEST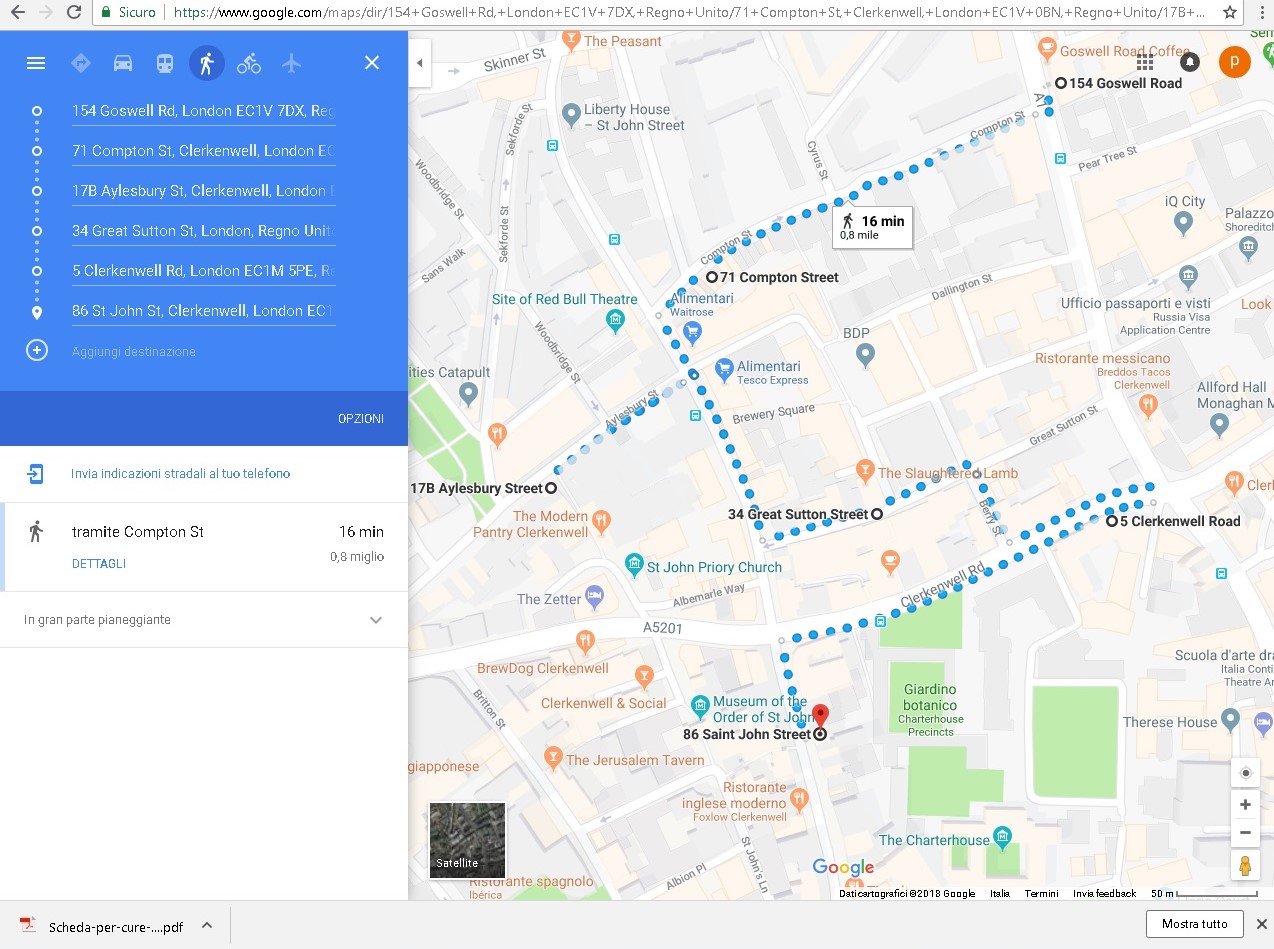 *Maira Indian Cuisine17B Aylesbury St vicino Sushi Tetsu caro££! e Dovetail belga: mains 10-13
The Slaughtered Lamb 34 Great Sutton pub chiassoso / Noodle Express 6-7 Albemarle Way
*United Chip 5 Clerkenwell Rd (in direzione Barbican, vicino a Pret a manger, Pizza Express e Starbucks) vedi offerta 40Ft beer battered fish and chips 11:30 – 22
Pho (Viet) 86 St John St / Breddos Tacos 82 Goswell Rd. / Nusa Kitchen (South East Asia) Old St / Abokado (catena Jap) 7 Charterhouse Buildings Goswell Rd
*The Rising sun 38 Cloth Fair (Barbican) pub old style, mains sotto i £10, birra catena Sam Smith
tanti in Exmouth Market e Brick Lane (Shoreditch)
Brick Lane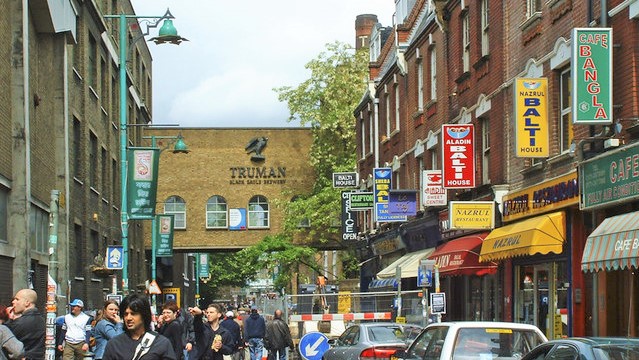 https://www.thrillist.com/eat/london/rating-every-curry-house-on-brick-lane
Kinkao thai 176 Brick Lane / Beigel Bake 159 / City Spice 138 / Sheba 136 – – – Cinnamon 134 Brick Ln BYO special mixed grill (basta x 2) £13,95 – – – The Monsoon 78 Brick Lane. Course Dinner (Banqueting Suite) Price £18 oppure set meals – – – The Famous Curry Bazar 77 – – – Bengal Village 77 (corner Hasbury) – – – Sichuan Folk (chinese) 32 Hanbury St – – – Nabrasa Express Brick Lane 30 Osborn Street AYCE 22,50 p.p. – – – Tas Firin (turco) Bethnal Greene Rd 160 – – – E Pellicci Bethnal Greene Rd E 332 – – –  Pizza Union Spitalfields 25 Sandys Row,pizze 2,95 – 6,50 – – – Lahore Kebab House un po' fuori mano BYO
Poppie's 6-8 Hanbury St, Spitalfields. Altre 2 locations. Traditional Fish & Chips (Cod or Haddock): Large £16.90 Regular £12.20. http://poppiesfishandchips.co.uk/
CATENE:
Oltre alle catene fast food internazionali McDonald's, KFC, Caffè Nero, Costa, Eat, Starbucks, etc, altre catene, solo alcuni di fast food, self-service o to go, in gran parte sono ristoranti v. e p. :
Wimpy http://www.wimpy.uk.com/
*Prêt A Manger sandwiches, salads, sushi freshly made, natural e bio dal 1986: a west 182 St John St e a nord vicino Angel 402 St John St https://www.pret.co.uk/en-gb
Poppie's 2 location una a Camden, piace a molti
Breakfast Club (american): per motivi a me oscuri, c'è sempre la fila e va molto di moda. Cibo ok, prezzi onesti. https://www.thebreakfastclubcafes.com
Byron (burgers): simile ma forse un po' meglio del rivale Gourmet Burger Kitchen https://www.byronhamburgers.com
*Chicken Shop & dirty burgers polli arrosto e burgers http://www.chickenshop.com/
West Cornwall Pasty Co: Pies: fagottini tipici della Cornwell http://westcornwallpasty.co.uk/
The Pasty Shop come sopra ma to go / Square Pie 4 shops http://www.squarepie.com/
Bodean's (american): ribs e costate alla brace a volontà www.bodeansbbq.com
Canteen (british) Risto vero e p.: 2 sedi: Spitafields e Royal Festival Hall www.canteen.co.uk
Hawksmoor's butch steakhouses, grass-fed British beef; come sopra; anche express menu: 2 courses £25 + dessert £28 (prima delle 18 e dopo le 22) https://thehawksmoor.com/locations/spitalfields/food/express-menu/
Mother Mash 26 Ganton St (Carnaby) puré + pietanza + gravy a scelta, componi tu in 3 steps
Burger & Lobster https://www.burgerandlobster.com/en/locations
Gaucho elegante, 30-40£ p.p.12 locations https://www.gauchorestaurants.com/
*Wahaca (risto messicano): si mangia bene, ambiente simpatico, cocktails, anche menu to share. Una 20ina di locations tra cui quella sul South Bank con una bella vista. www.wahaca.co.uk
Chilango (fast food messicano) http://chilango.co.uk/
Tortilla (fast food messicano): economico, spicy! https://www.tortilla.co.uk/
*Leon (world food): pranzo o take away, etico e sostenibile; location xlo+ nella City https://leon.co/
Giraffe (world food): menu eclettico; per famiglie con bambini www.giraffe.net/locations
Busaba (thai): decente, con un certo numero di branches www.busaba.com
Masala Zone (indiano). Non male; il "thali" 18£ è un piccolo buffet www.masalazone.com
Dishoom (indiano) meglio del precedente, 5 locations Shoreditch: 7 Boundary St.
Code, ma si può prenotare il tavolo (entro le ore 17.00 solo il giorno precedente alla data della prenotazione). Vini e birre cari però. http://www.dishoom.com/shoreditch/
Yo! Sushi / Itsu / Wasabi: li metto assieme perché fanno più o meno la stessa cosa, sushi poco sostenibile e di massa. Tutto sommato non sono male, soprattutti Itsu
www.yosushi.com / https://www.itsu.com/ / https://wasabi.uk.com/
Wagamama (famoso noodle bar) Ramen, Pad thai ecc. Mains 10-15£. www.wagamama.com
*Tonkotsu 9 locations il miglior ramen di Londra https://tonkotsu.co.uk/menu
Jamie's Italian: l'immancabile onnipresente Jamie Oliver, qualità decente, prezzi alti per ciò che offre ma alcune sedi (come quella a Bank) sono molto belle. https://www.jamieoliver.com/italian
Zizzi (italiano): pseudo italiano, pizza meglio dei primi. Standard ma solido https://www.zizzi.co.uk
Pizza Express (pizza): di italiano ha poco, caro escluse le "offers" https://www.pizzaexpress.com
*Franco Manca (pizza): 20 locations, qualità ben superiore ai precedenti www.francomanca.co.uk
Comptoir Libanais si mangia bene, con una bella scelta. www.comptoirlibanais.com
The Real Greek (greco). La location sul Bank Side è piacevole www.therealgreek.com
*Hummus Bros 4 locations https://hbros.co.uk/home.php
Belgo (belga): come dice il nome, birra e cozze o pollo fritto www.belgo-restaurants.com
Nando's (portoghese): il regno del pollo peri-peri £8-12 con contorno. Chicken bowl £9,95
Patisserie Valerie (francese): ormai va poco di moda e i dolci sono rimasti agli anni 80
https://www.patisserie-valerie.co.uk
Konditor & Cook (inglese): molto meglio del precedente, i loro dolci sono ottimi anche se un attacco al giro vita www.konditorandcook.com
*Paul patisserie ma anche insalate https://www.paul-uk.com/
↓Shake Shack 9 locations http://www.shakeshack.co.uk/ prezzi altini burger piccoli
CATENE DI PUB
Wetherspoon pub con deals frequenti https://www.jdwetherspoon.com/ Sam Smith / Slug & Lettuce / All Bar One / Green King con diversi nomi Simmons Bar H.H. Lu-Ve 16-21
La birra costa cara quasi ovunque, specie nei locali con la servono alla spina ma in bottigliette da 0.33 oltre  £4. Nei pub invece una pinta costa mediamente £4-4,50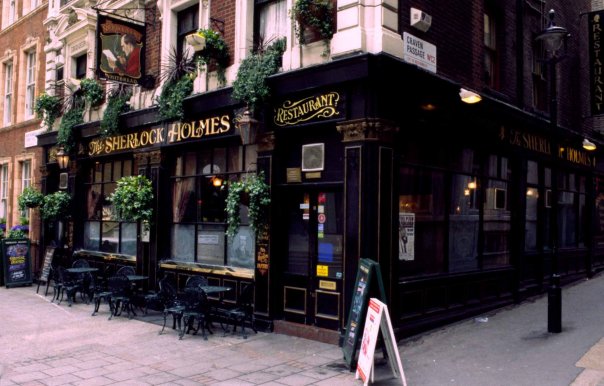 Tra i migliori pub tipici di Londra, alcuni dei quali davvero "storici":
*Ye Olde Mitre Inn, 1 Ely Court, Ely Place, EC1N 6SJ, Farringdon; antico pub segreto
The George Inn, 75-77 Borough High Street, SE1 1NH, London Bridge; ha anche biergarten
↓Anchor, 34 Park Street, SE1 9EF, London Bridge, South Bank, personale unfriendly
Ye Olde Cock Tavern, 22 Fleet Street, EC4Y 1AA, Holborn
The Old Bell Tavern, 95 Fleet Street, EC4Y 1DH, Blackfriars, piccino pochi posti
*Ye Olde Cheshire, 145 Fleet Street, EC4A 2BU, Blackfriars, storico, nascosto in un vicoletto
*Old Bank of England, 194 Fleet Street, EC4A 2LT, Holborn; interni spettacolari
↓Cittie of Yorke, 22 High Holborn, WC1V 6BN, Bloomsbury, chiude alle 21, personale unfriendly
Princess Louise Pub, 208 High Holborn, Covent Garden WC1V 7BW. Un famoso pub inglese in stile vittoriano, molto rinomato e sempre affollato. Vicinissimo Holborn tube
White Hart, 191 Drury Lane, WC2B 5QD, Covent Garden
The Albert, 52 Victoria Street, SW1H 0NP, Westminster
The Star Tavern, 6 Belgrave Mews West, SW1X 8HT, Belgravia;
The Grenadier, 18 Wilton Row, SW1X 7NR, Belgravia;
The Blackbird, 209 Earls Ct Road, SW5 9AN, South Kensington, Earl's Court